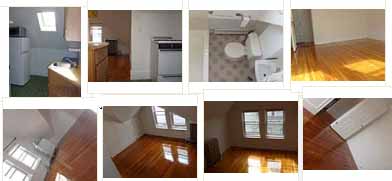 ONLY $1,250 - snap it up today.
Large: 5 Room, 2 Bedroom Apartment in Lower Allston / Boston 02134.
- In a 3 family, owner occupied house on Royal Street.
- All new windows and FREE HEAT plus FREE ELECTRIC !!!
- DOWNSIDE --> No dishwasher, no laundry in building (Laundromat 3 minute walk)

Quiet, clean, and close to everything in Allston and Harvard Business School - No traffic noise. Free on-street parking with no permit required. Close to the new Allston library, easy access on and off the Mass Pike [8 minute ride to the Prudential for $1]- also near Charles River. Walk to the supermarkets, or restaurants in Allston Village. Walk to Green Line, 10 minutes / (Red Line) 15, or take Bus 66, 86, 71, (57). Has front and back yard, and a front porch. FREE HEAT plus FREE ELECTRIC and FREE GAS !!!
Take a tour --->
Click Here to Tour The Entire Apartment --->
$1,250/mo. - Available immediately for 1 or 2 occupants [2 person maximum occupancy]
- First and last month rent to move in + 1/2 security [$3,125]
- 12 month lease. NO FEES
Interested? Take a virtual tour. CLICK HERE
Call 617-266-8998 Ask for Richard (Neighbor)
Please say you found the listing online on Craigslist when calling.
I am listing this on craigslist for my next door neighbor - I am not an agent.


[was 137]